Responsive web designs – web layouts that are responsive to the device a viewer is using when visiting your website – are the modern needs of online business and personal marketing. A website needs to be able to adapt to whatever device a consumer is using – websites that look great on a desktop screen will not be able to look well exactly as it is on a tablet. It needs to be applied differently on a tablet, so that it still looks good and it stays easily manageable for the viewer. How do you accomplish this? Here are 5 necessary guidelines that you need to consider when you are designing your responsive website.
1. It's important to think small. If your approach to a handheld website is to allow your traditionally designed website transfer straight onto a handheld device, it's only going to strain the eyes of a viewer and force them to work more as they try to navigate it. Why is this? Because your website will have to shrink in size in order to fit the small screen, and your text and links will be micro-sized. A solution to this problem will be that everything has to be re-designed in a way to fit the small screen. Larger text and a scrollable design is a must. The viewer will be scrolling down through the menu or through your most important information on your main page. Tabs that feature a rollover menu is a great way to give your viewers access to other pages quickly, which will improve your viewer stats.
2. Contrast is of great significance. Normally, you would want good contrast in your color themes when designing your website anyway, so that readership comes with ease. However, since the smartphone and tablet screens are so small, it's so much more important that you have strong contrast between your text and your background or images. If you were hoping to apply colors to your web design, it's a great way to make your website more unique, but it's essential to consider your color choices for the responsive web design.  Black text on yellow background is a good design, black on white (or vice versa) are great examples, as well as navy blue on white. These responsive web designs are some models to take ideas from.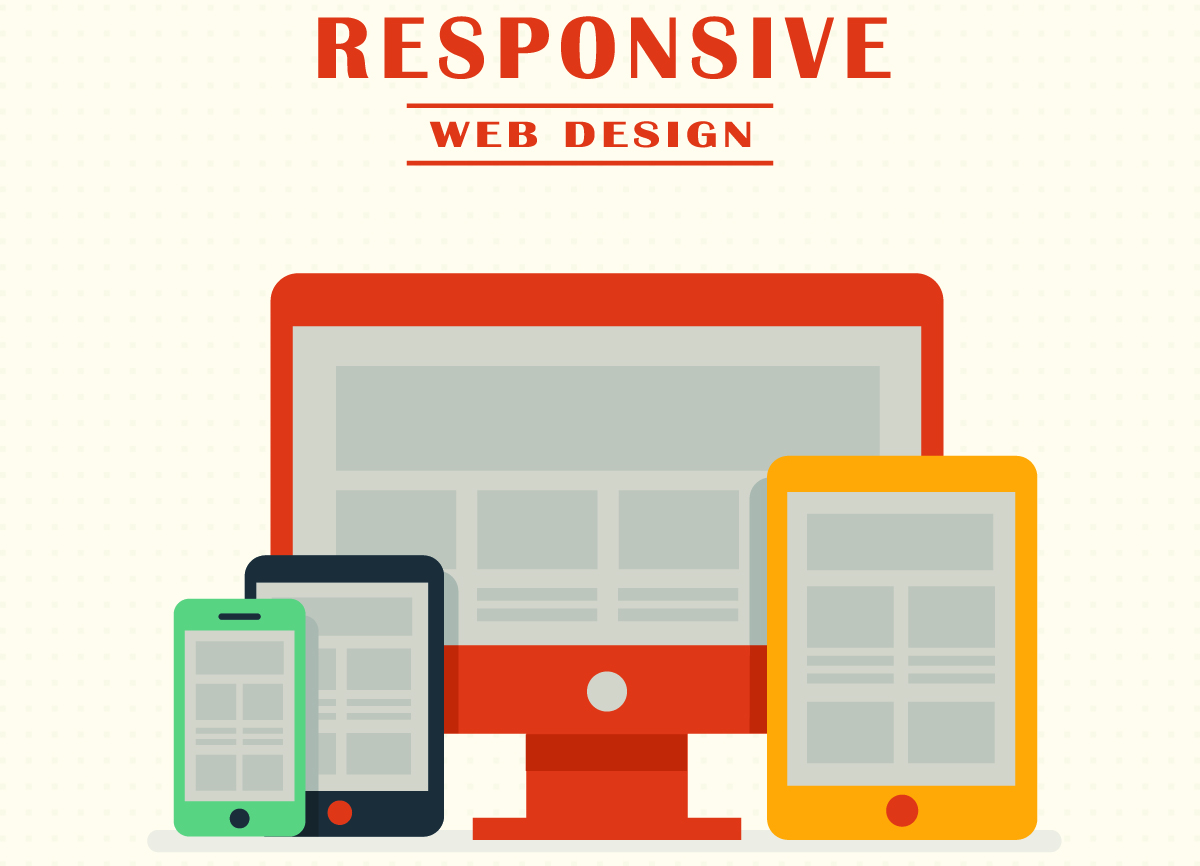 3. The layout will be considerably different. With such small screens, there is no room for a left-to-right scenario like on a desktop screen. Mobile websites largely rely on a top-to-down format for website display. Typically, your logo will be the first thing viewers will see, and under it, your most prominent links and text. It's important to rethink your strategy of navigation when transitioning your design into this layout. Keep your photos and text separate (that is, not overlapping with one another) so that it isn't too cluttered or messy for your consumers' viewing pleasure. Make sure that your text is well spaced-out in general to make reading easier and faster while your viewers are scrolling through it. The goal is to make your data seamless and flowing.
4. Social media is the language of the online world. It goes without saying that an online business or persona needs a means to communicate to others for a more personable relationship with customers and viewers. Great website design has links to Facebook and Twitter pages so that the community can respond to your services. You can also use social media to reach out to your consumers.
5. Reach out to professional help. Designing websites can be a tricky endeavor, especially when handling HTML and CSS codes. Particularly when it comes to designing mobile websites, or even apps, planning out your website can get very overwhelming and difficult to understand. Making your business presentable is usually what makes it successful – it's almost like donning a professional uniform. It lets customers and viewers know that you are reliable and organized. Avoid having your website look like a custom MySpace profile by seeking help from those who are experts in the creating great responsive website design. They can make the process understandable, and give you relief. An ad agency is will be able to take a load off your shoulders as they design your website.
As long as you keep the above mentioned tidbits in mind when you are choosing your schemes and colors, good communication will go a long way when using a web development agency. Make sure to be conscious of these helpful hints while working through your blueprints and ideas, and eventually you will land yourself a satisfying web layout.